Weeds are a nuisance to you and your lawn alike, dragging down its curb appeal and stealing precious nutrients for themselves. These pesky plants are common here in Kansas, but you can achieve a weed-free turf by using both pre- and post-emergent weed control! Pre-emergents help to prevent them from sprouting and causing problems in the first place, while post-emergents eliminate any existing growth. Utilizing both treatments will make controlling weeds effective and easy, as you can cover each end of their life cycle and ensure you can stay on top of them throughout the year.
---
Pre-Emergent Weed Control Will Help Prevent Weeds From Sprouting on Your Lawn
Wouldn't it be nice if there was a way to stop weeds from growing on your lawn in the first place? Fortunately, that's just what pre-emergent weed control treatments will do! Upon applying them, they'll seep into the soil and create a barrier. Then, as newly germinated weeds start to make their way to the surface, they'll come into contact with the product, which will block them from continuing and eventually lead to them dying.
While pre-emergents are highly effective at preventing weeds from sprouting on your lawn, timing is of the essence with these treatments. After all, you need to apply them early enough so that they have time to establish in the soil and work the way they should. If not, the weeds will already have passed a certain point in their growth cycle, rendering the treatments ineffective. The best time to utilize pre-emergents is in the early spring, as it'll ensure you can get ahead of these pesky nutrient sappers before they germinate and begin growing.
---
Post-Emergent Weed Control Will Eliminate Any Existing Weeds on Your Lawn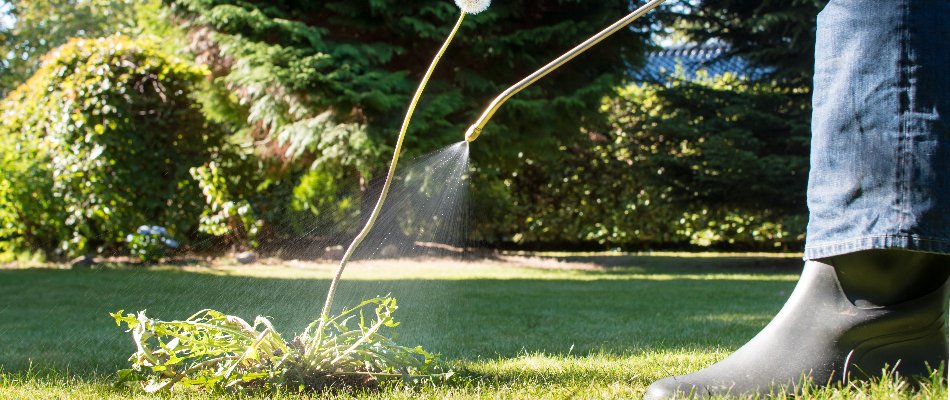 When there are weeds on your lawn, not only do they drag down its aesthetic appeal but also its overall health. However, that's where post-emergent weed control comes in. You apply these treatments directly to any existing growth on your turf, where they'll then absorb into the soil and kill it at its roots. Post-emergents are vital for eliminating weeds that have already surfaced, and you can use them as needed throughout the year to keep them from causing further issues.
Some common weeds in Kansas include crabgrass, spurge, nutsedge, foxtail, and dandelions.
---
Utilizing both pre- and post-emergent weed control will help you achieve a weed-free lawn.
Alone, pre- and post-emergent weed control treatments aren't nearly as effective at keeping your lawn weed-free. On one hand, pre-emergents can stop many weeds from surfacing, but some may have already passed a certain point and persevered anyway. Not only that, but they can't eliminate any existing growth. Meanwhile, post-emergents can, but it'd be an uphill battle trying to stay on top of them without pre-emergents.
When you utilize both pre- and post-emergent weed control treatments, there's no stopping you from achieving a weed-free lawn! You'll cover both ends of their life cycle, getting a head start on them with pre-emergents and having an easier time controlling them with post-emergents. Combining them will allow you to maximize their effectiveness and yield the best possible results from both.
---
Call us today to schedule our weed control service!
Do you want to achieve a weed-free lawn? If so, look no further than our weed control service! At Lawn and Landscape Solutions, we utilize both pre- and post-emergent weed control treatments, applying the former in the early spring to get ahead of weeds and the latter as needed throughout the growing season to stay on top of them. But wait, there's more - this service also comes with fertilization and a grub control application! That way, your lawn receives the nutrients it needs to thrive without the threat of weeds or grubs.
We proudly offer our weed control service to residential properties in Overland Park, Leawood, Mission Hills, and other nearby areas in Kansas and Missouri. Call us today at (913) 238-9318 to schedule!